4 Tips to Get Ready for Spring
We're counting down the days until Spring, when the sun rises a little earlier and the evenings are a little warmer, and we can finally get back in the garden. March is a perfect time to get ready for the great gardening season ahead; the time to bring the garden out of hibernation. So, while we're waiting for mother nature to change the seasons, here are a few tips to make sure you – and your garden! – are prepared when spring arrives.
TIP #1 – Rake & Tidy
Start your garden with a clean slate by raking up leaves and debris that has accumulated in your yard over winter, and be sure to tidy around any hedges and flower beds, as well as your in vegetable garden bed. Check your trees for dead or broken branches that may need to be cut, and make a note of trees or plants you many want to prune when the time is right. Pruning too soon may cause more harm than good, so do some research to find out the right time for your plants.
TIP #2 – Prep Your Tools & Beds
Hopefully you had a chance to clean your tools before you put them away in the fall, but if not, be sure to get them out early and give them a good wash with soap and water. Once your tools are ready, give your soil a good turn. This will help aerate the soil and break up compaction. You may need to add some compost amender to help with drainage and add nutrients to your existing beds. Do this a few weeks before you want to plant and be sure to blend the soil well so the straight amender doesn't shock your plants or burn their roots.
TIP #3 – Plan your Plants
What are you going to plant and where should you plant it? Your vegetable garden should be located where it can get a decent amount of direct sunlight each day. If you're in a shadier spot, be sure to pick veggies that need less sun to grow. Check out West Coast Seeds for more tips on what to plant, where, and when.
For flowers, plant a mix of annuals and perennials so your yard will have colour and life a little longer at the end of the season. Also, be sure to consider the amount of sun and water each plant need and watch that plants that grow taller aren't blocking the sun for the shorter ones. Taking the time to plan now will save you time when you're buying plants and planting your garden.
TIP #4 – Start Seeds Indoors
We're still a few weeks away from the official start to spring and its cold outside – especially overnight. But you can get your seeds started indoors now and be ready for when the weather changes. Many herbs, including chives, mint, and sage can be started from seed, are easy to grow, and can be kept in containers or transplanted outside when it warms up. Or get vegetables like lettuce, tomatoes, and peppers a good head start by sowing seeds indoors now.
BONUS TIP
Be sure to check out the Gardening Workshops hosted by Squamish CAN each month – find the info on their website or facebook page – and join the Squamish Gardener's Club for more great events and gardening wisdom!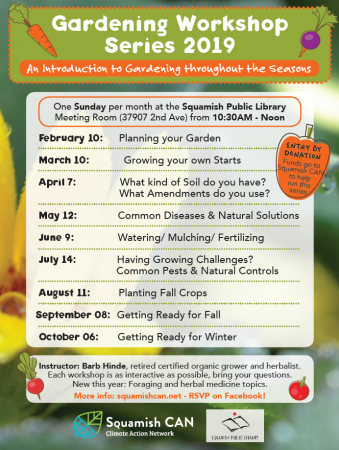 Gardening is just one more way to get outside and enjoy the beauty that Squamish has to offer, plus you get vegetables out of it! Do you have any tips for getting ready for gardening season in Squamish? Jump over to our facebook page and share them with our community. And if you need advice on soil or landscaping aggregates, give us a call at 604-898-5015.